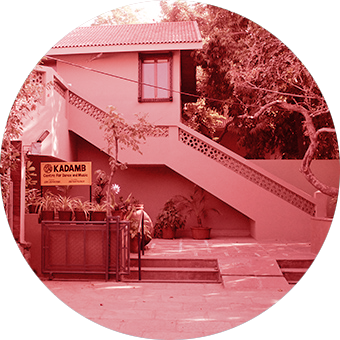 OUR
TEACHING PROCESS
Kadamb essentially was an institute that got started off by Kumiben by teaching three students in her husband's office. It took more than 50 years for that class of three students to grow into a world-renowned institute of 150 students. Kadamb as an institute focuses on teaching young kids and create them to become kathak soloists. The training is methodical and holistic.
In order to get admission in kadamb; registration opens after the month of October. The applicant shall receive a text message in the month of June wherein the interview date would be mentioned and based on the interview the student would be given the admission. The season begins from July 1st and ends April 30th. The students would be given a two-week break in the festival of Diwali and a two-month break in summers, that is May and June.
New students are taken only from the age of 8+ years; earlier than that children do not have the coordination of the limbs required for dance. The children should be healthy and responsive.
OUR
AMENITIES
CLASSROOMS

There are three classrooms, 30' x 20' with floors which are good for dancing, sufficient lights, large mirrors, and windows opening to the outside.

STUDIO

Kadamb has a studio, 50' x 30' where students are encouraged to give performances. This hall is equipped with an adequate sound system and stage lights.

OFFICE

A functional office for the general administration of the Kadamb Trust and teaching & performing units.

TRUST

Kadamb, a trust, has a governing body to supervise and advice, and govern its functions.

LIBRARY

Kadamb has a library of books on dance, music, tala and laya, costumes and other relevant subjects related to dance.

INSTRUMENTS

Kadamb is equipped with a number of tablas, harmonium, tanpuras, sitar, sarod and other accompanying instruments for Kadamb's musicians to use.

WARDROBE

There is a wardrobe with a number of costumes and accessories well maintained for the students to use.

KITCHEN

There is also a kitchen with gas, microwave, and a fridge to facilitate students to eat and drink when they need to.

WAITING AISLE

Kadamb's built-form offers semi covered waiting aisles decorated with potted plants for the parents to wait for their children.

GUEST ROOMS

There are two guest rooms: one double and one single, with bathrooms attached with all facilities and a small pantry.

WATER

Kadamb houses a water cooler for drinking water which is accessible by all the students.